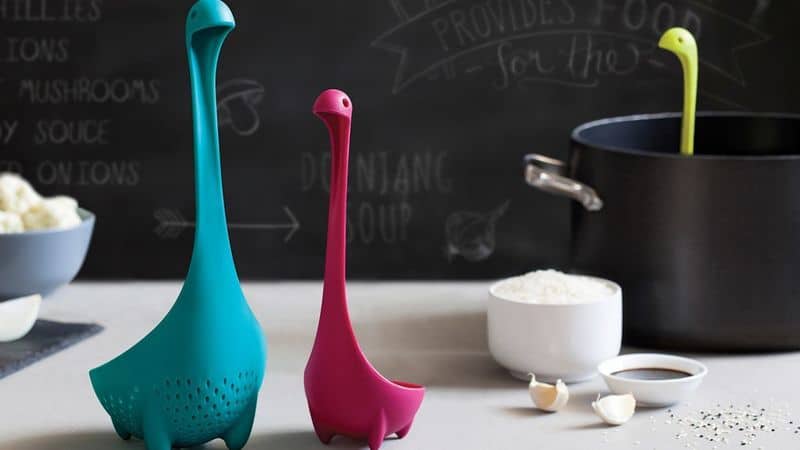 Don't let the names fool you. At MustHaveStuff we have located some of the most insane, weird and useful kitchen products available anywhere on Earth. You'll be able to entertain guests, complete tasks and do other interesting kitchen chores with items that you won't find anywhere near your typical kitchenware department. That's actually a good thing because there are a market and a niche for these items. Thanks to the internet, you can now find them here.
When we are talking about gadgets, the majority of the ones that are created tend to be targeting the kitchen. Some of them make jobs easier. Others are just fun things to add some personality to your food preparation chores. Either way, you'll discover that we have featured the best of the insanely weird kitchen products currently available.
15
Snot Nosed Egg Separator
Sometimes when you are in a hurry and you are trying to make a smoothie and you don't want anything more than the white from an egg, separating them can be hard. Sure, there are several different types of egg separators in the market but none of them are quite as fun and creepy as this one. You drop the opened egg into the top and watch the face on this product. The white will ooze out of the nostrils looking like well, you get the idea. It's a bit naughty but it really does a great job as a Bogeyman Egg Separator.
14
Easy Banana Slicer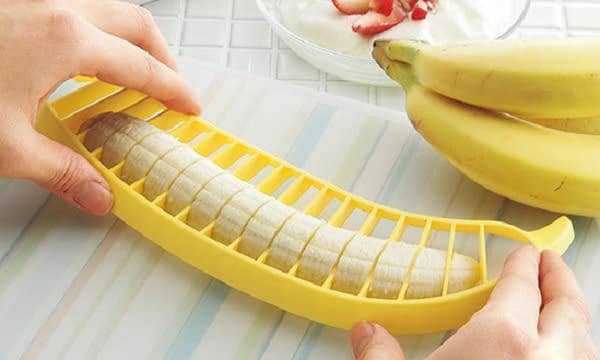 The last time we wanted to slice a banana, this would have come in handy. All you need to do is line it up with a banana and push down. In an instant you'll have banana slices ready to add to your morning cereal, to drop into the dehydrator or just to pop like candy in the next hour. This Banana Slicer is effective and works with ease. Oh, and clean up happens to be just as easy. Need to slice up a banana and there's no Ninja around? This is the tool that will get you exactly what you are after and quickly!
13
Cat Butt Tissue Holder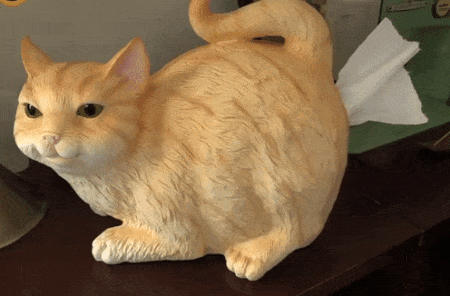 You don't have to be a cat lover to love this funny tissue dispenser. However, it wouldn't hurt if you did. The way this is designed, it fits over top of an ordinary box of tissue and transforms it into something rather extra ordinary. The cute cat design resembles a playful kitten and the tissue gets pulled out of the cat's butt. That's why it is called the Cat Butt Tissue Dispenser. It may look a bit odd, but it is highly functional. Its fun and unusual and the perfect gift for that cat lover – or cat hater – on your gift list.
12
2-in-1 Spatula & Tongs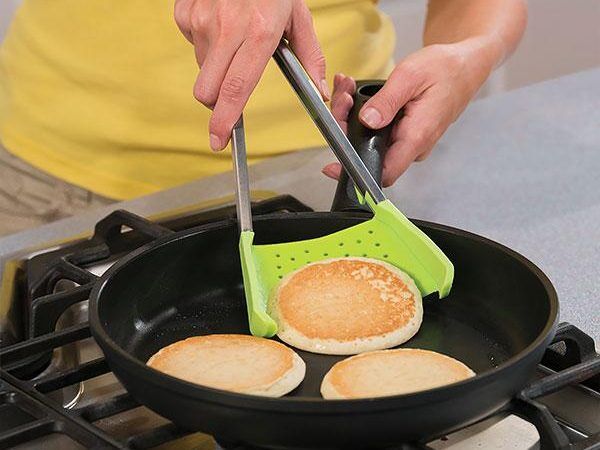 You've probably found yourself in this situation more than once. While cooking up something on the stove top you find that you need both a set of tongs and a spatula but you can't juggle both and handle the frying pan as well. Sure, if you had three arms and hands you'd manage but you don't. That's why this 2-in-1 Spatula and Tongs combination saves you effort and combines two of the most useful kitchen tools into one handy gadget. Once you try it, you will wonder why you went so long without a set of these in your kitchen.
11
The Jesus Toaster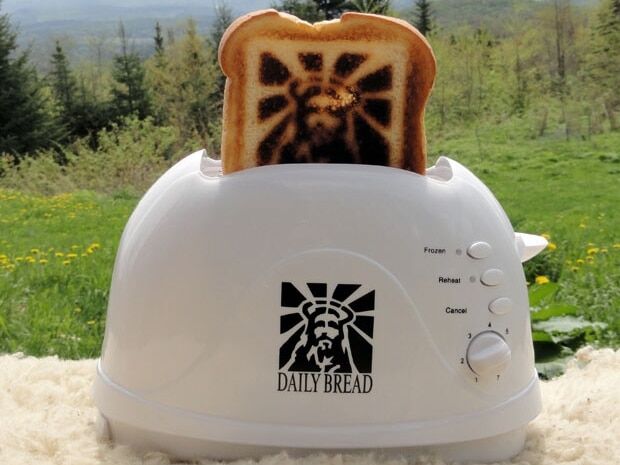 Don't freak out when you pop your toast out of this Jesus Toaster. The burning elements inside are designed in such a way that they imprint the bread you've shoved into it with a portrait of The Almighty. Having trouble keeping your connection with Jesus? This is one of the most useful, subliminal ways to keep Him on your mind at breakfast, lunch or dinner. Your Jesus toaster will keep you on the right path as you smother His likeness under a layer of peanut butter and jam. He is always with you and your toaster is one way to see that daily.
10
Cheese Curler Machine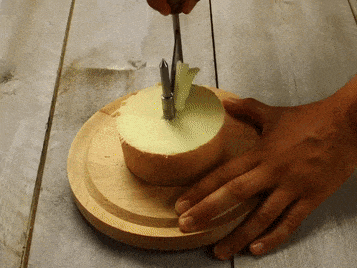 If you've even had a craving for curled cheese – and who hasn't these days? – you can now curb that craving. Thanks to the simple design that includes a beech wood cutting board, steel peg and a curler knife, you can spin up some pretty awesome curls of cheese. This also works well with chocolate and if you've used it for anything else, let us know! You will find this to be one of the most useful kitchen gadgets you own as soon as you break it out and start curling. You'll even search for recipes that require cheese curls as an excuse to use this.
9
Ice Cube Maker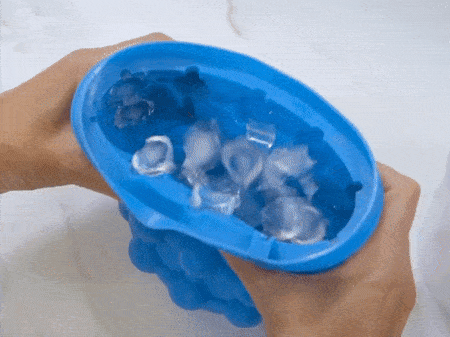 Sure, you can freeze water anytime you like to make ice. But when you use the Ice Genie you have a very unique and effective ice cube maker. The pattern inside the inner ring and outer ring forms multiple ice cubes. All you do is fill it up with water. The Ice Genie also acts as a cooler where you can place your favorite beverage inside the cylinder and when it is filled with ice in the walls of the product, your beverage remains at the proper frosty temperature to be called a "nice, cold drink." This is an amazing ice cube maker.
8
Loch Ness Monster Spoon
What else would a fancy colander look like if it had little feet on it to make it stand on a counter? Once you see this you'll totally recognize why it has been named the Loch Ness Monster Spoon. It is most definitely designed after the elusive and legendary Nessie. Plus, in your kitchen, there is no way this lake monster inspired gadget is going to cause any kind of damage other than straining water from vegetables. There's a whole set in different colors that are perfect for collecting. Find the right color for your kitchen and you are on your way!
7
Satisfying Whisk Wiper
Nothing beats cleaning a kitchen beater like the Satisfying Whisk Wiper. It does an amazing job that can only be compared to the job of the whisk in the average kitchen. The only problem with using a whisk is an effective way to clean one. Now that problem has been solved with this innovative cleaning tool. It even helps you to wipe clean the bowl you were using it in. Call it versatile if you'd like. We just know that for an extra hand with the kitchen clean up, you can't go wrong with this handy whisk cleaning product. It is truly amazing!
6
Nutella Jar Scraping Spoon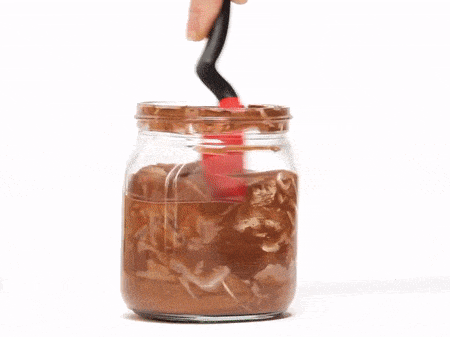 Don't you just hate it when you can't reach the stuff in the bottom of the jar with your knife, finger or tongue? Well, there is now a solution that will revolutionize how the remains in any jar are collected. This Nutella Jar Scraping Spoon is designed to actually scoop up whatever you've struggled to get. The silicone spoon with hug the inside of a jar. The unique handle design allows you to sit it on a countertop and the eating portion will not touch the surface. Is this practical? You bet. You better get yours as soon as possible for the best color selection.
5
Portion Control Plate
Okay, we can only use the excuse that our clothes have shrunk only so many times. Maybe it is time we started to eat healthier but how is it possible with everything getting super-sized? This Portion Control Plate is your first step. You can click it to provide space for all parts of your meal and as you measure out you food, this plate will give you a hand in cutting back. With portion control you can regain control of your health and your clothes will start to fit a little better as a result. Use this when dieting for maximum results that don't lie!
4
Egglettes Egg Cooker
They come is a pack of six and they make the chore of hard boiling eggs far too easy. All you do is crack your egg inside, snap on a lid and drop the Egglettes Hard Boiled Egg Maker into hot water. Before you know it, you'll have hard boiled eggs that look the right shape but don't have a shell around them. If the shell has been you biggest hurdle to creating this style of egg, the answer it here. Crack, drop, boil and that is all it takes. You'll find it so easy that you're going to eat a lot more hard boiled eggs in your diet pretty soon.
3
Salad Cutter Bowl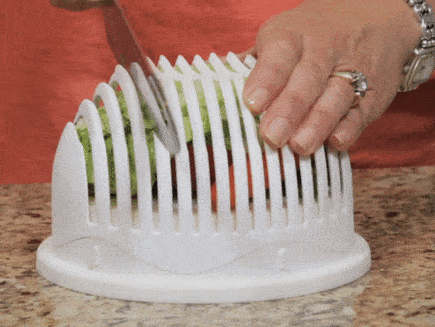 If you've avoided making salads because of the time required – and that they may actually be good for you – here is something that will change things for you. The 60 Second Salad Maker is a tool that worked as a strainer and a salad maker. You just fill it, drain it and start slicing away using the handy cutting guide. Then you dump everything onto a plate, squirt on some salad dressing and you're done. It couldn't be much easier if we tried. Salads can be made in the fraction of the time it takes to prepare anything else. This is an awesome gadget!
2
Thumb-Protecting Knife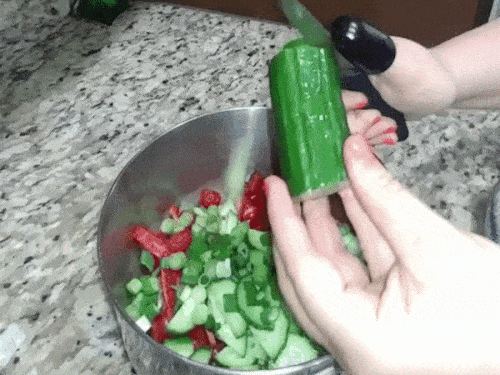 You can slice and dice your way through your kitchen anytime you'd like. Only now, with the Safecut Knife, you will be doing it with far less injury to yourself. The way in which this works is that you use finger protectors and they can't get cut by your knife. It's a simple yet very effective solution. If you tend to cut and scrape more of your skin than that of a potato in your dinner prep, you need this tool. In fact, for the safety of everyone else in your family you cook for, this tool is essential to your kitchen. Cut your way through to one today!
1
Sponge Gloves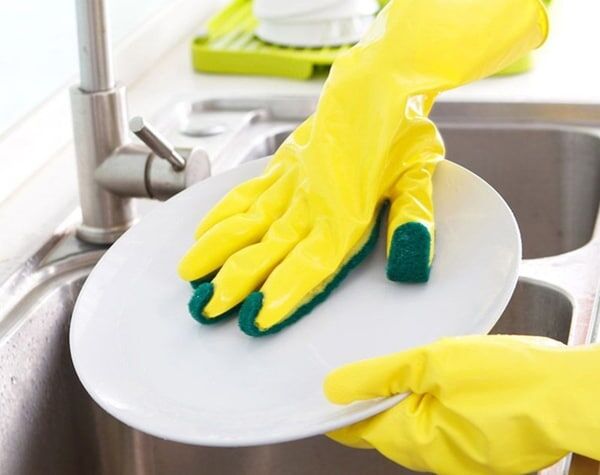 Soak up spills like never before with these Sponge Gloves. They come in handy in more ways than one. Each finger and sides of the hand are covered in a unique and highly absorbent sponge material. You just slip them on like regular gloves and then you can get to cleaning up whatever needs to be cleaned. You'll never look at an ordinary sponge the same again. With a pair of sponge gloves in your clean up kit, you won't need rags or towels because you'll have the best tool in your hands. These are incredibly cool and happen to be efficient.