This post may contain affiliate links (what is this?)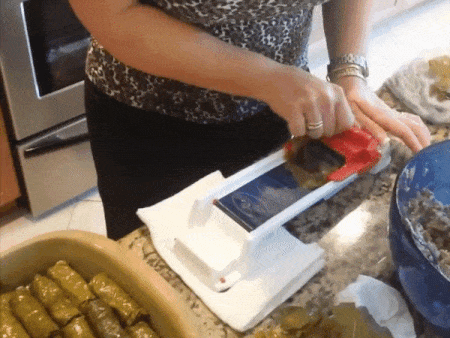 Feel like stuffing some leaves with food to add to your plate of appetizers? Well, look no further as this grape leaves roller will take that task and turn it into something simple and delicious. Actually, this is a simple rolling machine. Only it sits on the countertop and uses grape or cabbage leaves that you stuff with your desired stuffing and roll to complete the job. In a simple step or two, you will have stuffed leaves that are ready to serve and enjoy with others.
The Dolma Sarma Rolling Machine is a unique product. It is made of non-toxic plastic that is not only durable, but it is odourless. It is also as easy to wash as it is to use. You can also roll meats, sushi and several other great finger food type snacks with this handy little gadget. It uses a fairly simple design in that you load up the leaves in the slots provided and move the slider and instantly you end up with uniformly shaped, stunning looking stuffed leaves of food.
Not only does this grape leaves roller create some very tasty treats, it will expand your food choices to the point where you'll be invited to all the good parties. That's not because you will suddenly become popular because of who you are. It'll be because you'll be the one person in your group who happens to own one of these awesome leaf rollers. You really have to see what this can do to fully understand how much fun food can be to play with before you eat it!