This post may contain affiliate links (what is this?)
If you tend to engage in rubber band warfare on a regular basis, you know the importance of good aim and powerful ammunition. With this Rubber Band Machine Gun, you will not only rule the room, but you will prove once and for all that this is serious fighting. This particular marvel of modern technology is actually a wooden device that works on the same principle as a Gatling gun. The maximum capacity of this Wooden Gatling Gun is an amazing 672 rubber bands. It is also fully automatic so when someone across the room or elsewhere in the office lobs a feeble shot in your direction, you will be able to set the score straight. It is a real peacemaker, this one.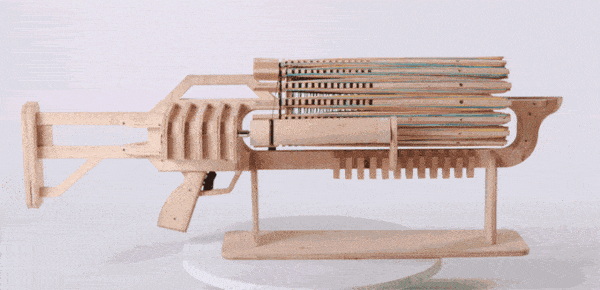 Made with a total of sixteen barrels which can hold multiple rubber bands. In other words, you will be firing shots long after everyone else has surrendered and run away. The onboard electric motor rotates the barrels around a central axis with each and every trigger pull. But what about loading this after use? Sure, 672 rubber bands don't magically leap into position however, this machine gun designed for rubber bands includes a bonus.
It comes complete with a loader which makes reloading a snap and completes the job in just minutes. Think you need to make a point during a boring presentation or you just want to take it out on your big-screen television? With this Rubber Band Machine Gun, you get the last word and get to burn a lot of rubber!